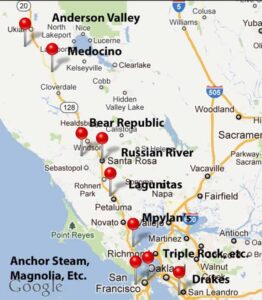 From world-renowned breweries to hidden local gems, Northern California has a lot to offer beer lovers. If you're looking to explore Beyond Napa Valley and discover some new craft brews, here are five California hotspots you won't want to miss.
Russian River Brewing Company, Santa Rosa

If you're a fan of hoppy beers, you'll want to head to Santa Rosa's Russian River Brewing Company. Russian River is best known for its Pliny the Younger triple IPA, which is touted as one of the best beers in the world. While Pliny the Younger is only available for two weeks every February, there are plenty of other great beers on tap year-round. If you're lucky enough to be in Santa Rosa during Pliny season, be sure to get there early; lines can stretch around the block!
Bear Republic Brewing Co., Healdsburg
Located in the heart of Sonoma County's wine country, Bear Republic Brewing Co. is a must-visit for any beer lover touring Northern California. Bear Republic offers a wide variety of beers, from IPAs and stouts to sours and barrel-aged brews. Visitors can tour the brewery and taste some of their seasonal offerings before grabbing a bite at the on-site gastropub.
Are you tired of the same old wine tour circuit in Napa Valley and Sonoma County? If you're looking for something a little different, check out these five hidden gems. From underground wine caves to a treehouse bar, these unique experiences are sure to make your trip to wine country one to remember.
Sterling Vineyards – Calistoga, CA
Nestled atop a hill in Calistoga, Sterling Vineyards offers stunning 360-degree views of Napa Valley. Take a ride in the aerial tram to the top of the property and enjoy a glass of wine while taking in the picturesque scenery. Then, explore the underground wine caves which are chiseled into the hillside and learn about the philosophy behind Sterling's award-winning wines.
Vella Cheese Company – Sonoma, CA
For cheese lovers, a visit to Vella Cheese Company is a must. This family-owned business has been making artisan cheese since 1931 using traditional methods passed down through generations. Stop by the tasting room to sample some of their delicious cheeses, or take a tour of the facility to see how the magic happens.
Infusion Lounge – Healdsburg, CA
Infusion Lounge is an eclectic bar located in Healdsburg's historic district. This one-of-a-kind spot features a treehouse bar, live music, and creative cocktails made with local ingredients. Whether you're looking for a place to dance the night away or simply want to relax with a drink in hand, Infusion Lounge is sure to please.
Francis Ford Coppola Winery – Geyserville, CA
The Francis Ford Coppola Winery is much more than just a place to taste wines. Visitors can also tour the on-site movie museum which houses props and memorabilia from some of Coppola's most famous films, including "The Godfather" and "Apocalypse Now." Or take a dip in the pool overlooking vineyards and rolling hills – it's the perfect way to relax after a long day of exploring wine country.
Safari West – Santa Rosa, CA
A visit to Safari West will transport you to Africa without ever having to leave California! This 400-acre wildlife preserve is home to over 800 animals from more than 100 different species. Take a jeep safari through the preserve and see giraffes, zebras, ostriches, and many other animals up close and personal. Afterwards, stop by the gift shop to pick up some souvenirs from your adventure. There's more to Napa Valley and Sonoma County than just wine tours – although there's certainly nothing wrong with that! If you're looking for something different during your next trip to wine country, be sure to check out some of these hidden gems. From underground caves to African wildlife preserve, there's sure to be an experience that perfectly suits your interests.
Sponsered: Book airport shuttle to and from Santa Rosa and San Fracisco airports at
STS.limo